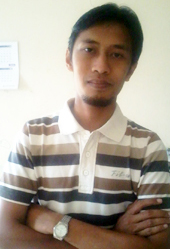 Agung Ponco Nugroho is an Indonesian born in 1980. With more than a decade of designing experience, Agung Ponco Nugroho developed a sharp eye on building corporate identity, brandings, websites, printings. Graduated from Mercubuana University and finished his masters degree in Budiluhur University (Magister), he spents most of his time fabricating designs to suit his clients interest. To ensure a complete match, He extensively interviews both companies and candidates to find out who they are and what they are looking for as companies and as people. He delivers consultations and marketing promotions in the form of logos, websites, ads banners, leaflets, company profiles, letterhead, envelopes, business cards, shirt designs and many more.
He is an excellent user of computer software and applications such as Adobe photoshop, Adobe Illustrator, Corel Draw, Adobe Indesign, Adobe Dreamwaver, Adobe Flash, CorelDraw, html, php, wordpress, joomla.
A competent individual in arts, Agung has a proven ability in creating artworks started from a very young age. Due to his aptitude in art and design, Agung won couple of artpaintings championships at the age of ten. Agung began his career in graphic design after graduated from college where. As an entrepreneur who quickly built his own design agency called Studio Ponco Design. He has subsequently consulted clients on designs projects.
This fellow Indonesian has undertaken assignments from local and native clients. He also coaches trainings in graphic designs occassionally from basic to advanced level.